As an IT professional I was tired of slaving away at my desk all year long and so I looked for a little bit of excitement this summer and booked a vacation to Goa. Landing at the Dabolim airport set my senses tingling as I had no idea what to expect! But the journey from the airport to the
Alila Diwa Hotel
was such a revelation. One can clearly see the impact the Portuguese made on Goa at every nook and corner.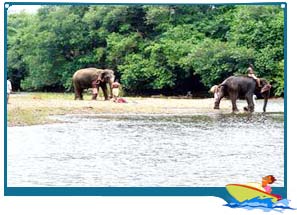 Once I was comfortably settled in my room I took a moment to look out the window at the beautiful golden beaches of Goa and the Arabian Sea. The hotel's travel desk was most helpful in helping me rent a car and I was all set to go! I made my way towards North Goa where the
Bondla Wildlife Sanctuary
waited for me with its excitingly refreshing flora and fauna. It was a whole new experience to meet the Elephants, Leopards, Bison and many more rare species.
I also had a great time in the beach which was in close proximity to the resort and enjoyed paragliding, and sailing. I tried to absorb as much as I could in my short vacation and enjoy each precious moment of this wonderful stay! Throughout my vacation I could be sure of one thing and that was that at the end of the day when I get back to the resort there is always a warm meal and a comfortable bed waiting!
Image Source : shikhareducationaltours.com
Img Src : bharatonline.com